Your dog.
Man's best friend.  Also known as your alarm clock, your snuggle buddy, the family clown, vacuum cleaner 2.0, your child's official bodyguard and the reason you probably won't get your security deposit back—all rolled up into one furry, lovable package that permanently takes residence in your heart.
At Park Cities Pet Sitter, we get it.  Your dog is family, and you want the best for them.  So do we.  That is why we hope you will entrust us with your dog's care from their first days in your home, to their very last.  With great services like our Daily Dog Walks, we promise to help you make all of the days in between the best they can possibly be—full of love, exercise, treats, and some amazing belly rubs.
RECURRING DAILY WALKS / DAILY VISITS
(All of our regular pet sitting visits include a short walk.  Recurring daily visits are a stand alone service if you can't get home for lunch or dinner, or just want us to walk or exercise your dog.)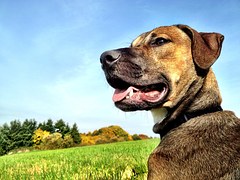 Give your pet – and yourself – a break! Tired of rushing home at lunch or right after work? Have your professional pet sitter come instead! During our 20-30 minute visit, we can give your dog exercise and play time to keep them healthy and happy. We can feed them dinner, or give them their medicine. Recurring Daily Walks or Visits can be set up any time of day, as you need them, or on a permanent schedule.
We offer a discount for daily walks if you have a recurring, set schedule of 3 visits or more per week. Call or email us for more details!
BENEFITS OF HAVING YOUR DOG EXERCISED DAILY
Dogs crave the stimulating sights, sounds, and smells that only the outdoors can provide.
Dogs can become bored and restless when their minds are not regularly engaged.
Bored dogs may become destructive around the home, causing expensive damage.
As a damage-prevention measure, hiring a dog walker could be the answer.
5+ RECURRING VISITS/WK
for 1-2 dogs, $2 per additional dog
4 RECURRING VISITS/WK
for 1-2 dogs, $2 per additional dog
3 RECURRING VISITS/WK
for 1-2 dogs, $2 per additional dog
AS NEEDED
for 1-2 dogs, $2 per additional dog
15-MINUTE MIDDAY POTTY BREAKS
MIDDAY POTTY BREAK
for 1-2 dogs, $2 per additional dog
This 15-minute or less visit is designed for clients who simply want their dog to have a quick potty break at mid day–where exercise is not the goal. It is also ideal for older dogs who do not need a lot of exercise, or dogs that have restrictions after an injury.  You must have a secured back yard to qualify for this service.
Make a Reservation Today!
If you are new to Park Cities Pet Sitter, click on the button below to become a New Client.